New Vehicle Hyundai Warranty in Stouffville, Ontario
Have you heard about the Hyundai vehicle dealers? Well, we are the leading Hyundai dealer in Stouffville, Ontario. We also serve Markham, Vaughan, Richmond Hill, Newmarket, Aurora, and surrounding areas. We offer our valued customers New Hyundai vehicle warranty with a plethora of options. Buying from us means buying from the most reputable and trustworthy organization, and therefore you stand to gain a lot of benefits. Your peace of mind is our utmost priority. We stand firm behind our products since we are certain about their quality. Several vehicles from our company are award-winning from well recognized third parties based, and our online dealership reviews are to brag about. Therefore, you can be sure we offer value for your money for every product we offer. 

Most of our products boast a 5-years/100,000km limited warranty during which we also provide roadside assistance services such as flat tire changing and lockout services. And guess what, we are at your service 24 hours a day. Contact us to schedule a test drive and experience incredible Offers on the purchase of any new vehicle.
Warranty Coverage
Take that ride with confidence as our warranty covers all the components of a new vehicle. We also offer great services for the repair and preplacement of the default parts in your vehicle, which may have resulted from our workmanship. At the same time, if it's defective in material, or the factory workmanship under regular use, as well as maintenance, are all covered.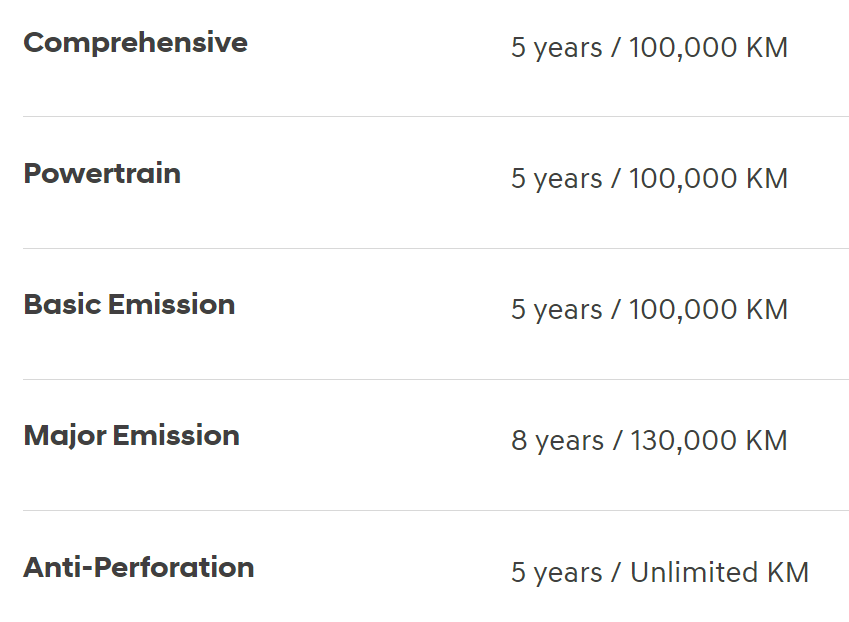 Powertrain Plan
The warranty also covers the transaxle as well as most engine components, including the replacement and repair of powertrain components. You can bank on our word when it comes to replacement of parts that we had initially manufactured and they happen to be faulty.
Major Emission and Anti-Perforation Additionally, it also covers significant emission components, which include:
The engine control module
Catalytic converter
The onboard emissions diagnostics device
We are aware of the amount of damage that corrosion cause on your vehicle. Therefore, we provide anti-perforation care for the metallic parts of your vehicle. Therefore, you can rest assured that perforations will not be a concern to you.
Hyundai Extended Protection
Yet another fancy bit is the extended Hyundai protection. It is an additional benefit that offers you further protection once the warranty of your vehicle expires. It is an extended warranty that has a full back for all the vehicles we sell across Canada. We use only experts to carry out repairs. You can drive without worry across Canada and the US continent. Also, we offer you extended 24-hour roadside assistance, which includes mechanical first aid, fuel delivery, lockout services, flat tire changing, and battery boasting as well as towing services.
We also cater for meal and accommodation in case one of our covered vehicles develops a problem during your day out. We ensure the repairs happen overnight, allowing you to proceed with your journey in the morning. We also have the option to hire another vehicle as we attend to a faulty one. While selling your car, you can transfer the extended protection to the buyer so long as the vehicle will be used for private purposes. To a great extent, that enhances the resale value. We give tire road hazard protection, which entails tire repair, replacement following a failure that resulted from a puncture, bruise, cut, or an impact that is incurred while on your regular driving activities. If you don't file any claim by the time your plan expires, you will receive credit for your new protection plan, but it is limited to $2,000. You can also Trade-In your Vehicle for another one while your plan hasn't expired, and you will get a credit toward the new extended protection plan. And lastly, Hyundai protection is refundable in full if you cancel it within 45 days from the purchase day.
Hyundai Protection Plans
It is essential as it covers the major parts of your vehicle. We also offer a premium plus plan that gives ultimate protection to all parts and labour for improving the mechanical breakdown, ensuring you have that peace of mind you deserve while driving Hyundai vehicles.
Get in Touch With Us to Learn More
You can never go wrong with Hyundai vehicles. Reach out to us today and get fantastic deals, you can also view our new Hyundai inventory today. You will never be alone anytime you opt to buy from us. Our services during and after-sales services are just exceptional. Contact us to schedule a test drive now.
Hours
Monday

9:00 AM - 8:00 PM

Tuesday

9:00 AM - 8:00 PM

Wednesday

9:00 AM - 8:00 PM

Thursday

9:00 AM - 8:00 PM

Friday

9:00 AM - 5:00 PM

Saturday

9:00 AM - 5:00 PM

Sunday

Closed